Breast cancer is the most common cancer in most cities in India, and second most common in the rural areas. For every two women newly diagnosed with breast cancer, one lady is dying of it. The new breast cancer cases are likely to double by 2030. One third of global breast cancer burden is from the US, India and China. In the US, generally, it is detected in early stages and many cases are treated completely, which is not the case here. In India, there is not only a rise in the number of breast cancer cases but death rate is also high. Breast cancer occurs a decade earlier in Indian women – average at 42 years of age in India as compared to 53 in women in developed countries.
In early stages, breast cancer is highly treatable. Once the cancer becomes invasive and spreads to other parts of the body, it is more difficult to treat. Breast cancer awareness is very poor in India, surprisingly even in well educated women from higher socio-economic backgrounds. By the time a lump is felt in the breast, it has already reached a minimum stage II. There is an urgent need for Indian women, to increase awareness of the need of screening and early detection of breast cancer.
Screening
You must consult your doctor about breast cancer screening. All women must perform breast self examination. Consult your physician regarding the correct technique of breast self examination.
Techniques for early detection of breast cancer
Breast self examination
Palpation by a physician
Mammography
A self examination can be done monthly during bath, best time being just at the end of menses. If you notice any change, lumps or redness, rash, nipple discharge, pain, change in skin texture; talk to your doctor immediately. Do not hesitate even if it appears insignificant. All lumps may not be malignant but let your doctor decide that. Please remember, breast cancers are more frequently detected by the woman herself than the physician.
Look for -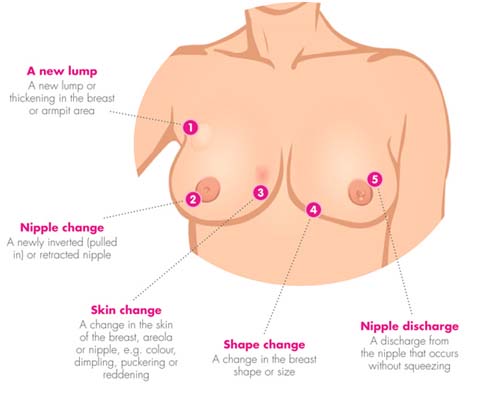 Visit your doctor every 3 years for a clinical breast examination if you are between 20 to 40 years. After 40 years of age, a yearly clinical breast examination by your physician and mammography is recommended. Mammography is the process of using low-energy X-rays to examine the human breast. It detects small tumours that could be missed on examination. The benefit is that localized cancers can be removed without resorting to breast removal (mastectomy). Indian women develop the disease earlier, so mammography at the right time could save your breast and your life. Any decision regarding mammography, or any other investigation will be made by your doctor. Do not go for these tests on your own as it could be dangerous.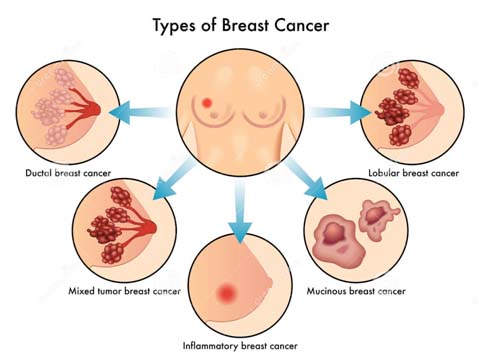 Here are a few tips to minimise the risk of developing breast cancer
Try to exercise for 30 minutes on most days and maintain a healthy weight
Stop or limit alcohol intake
Stop smoking
Eat more fruits, vegetables, whole grains, legumes, nuts
Avoid red meat
Avoid or minimise hormone replacement therapy
Unfortunately, if breast cancer has already developed treatment depends on the stage at which it is detected. Local treatment, done by surgery and radiation therapy, does not affect the rest of the body. Treatment for invasive breast cancer usually involves some combination of surgery, radiation therapy, chemotherapy, hormone therapy and/or targeted therapy.
Conclusion
It is important to remember that survival rates are higher in the early stages; early diagnosis and treatment is crucial. The importance of prevention, timely screening and early detection cannot be emphasised enough. Breast awareness, clinical examination and screening are crucial to reduce the consequences of breast cancer.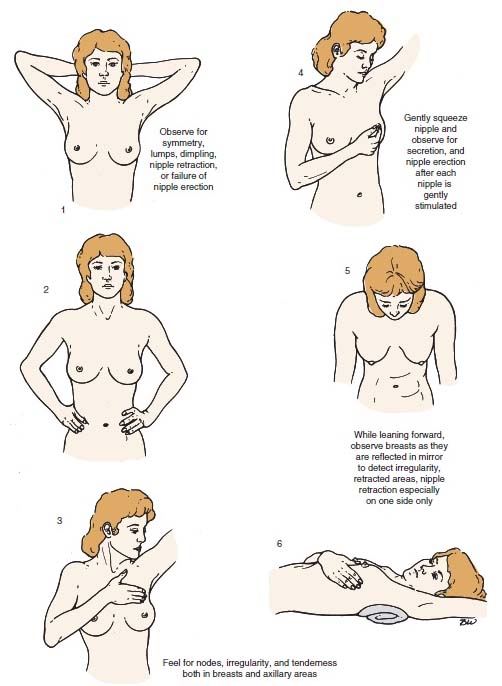 Reference: Article from India today, published in November 2016, written by renowned oncologists
Breast cancer – A Social stigma
The median age of breast cancer is a decade earlier in Indian women. Having it at a young age is extremely depressing says Dr. Ajay Gogia, Senior Medical Oncologist, from AIIMS, Delhi
Breast cancer patients have to deal with physical body changes, emotional burden, treatment-related social stigma and being marginalized within their own social context.
Some of them feel that their sense of self and identity is threatened by side effects such as hair loss and many times they have to manage stigma and difficulties themselves.
Each woman with breast cancer is a unique person and needs appropriate care and support.
However, they do not want your pity...
What they need is a positive approach and the acceptance that they had before the illness.
Your empathizing and connecting with them as ordinary human beings will go a long way.
Not only during the illness but also during the recovery period, they need extra level of comfort and reassurance.
Chemotherapy induced Hair fall
Hair loss is a common and usually temporary side effect of cancer chemotherapy and starts 1 to 4 weeks after starting chemotherapy. The amount of hair loss can range from hair thinning to complete baldness. The patient may notice hair falling out in clumps when combing or washing it. Hair loss associated with chemotherapy can be emotionally distressing. Hair is essential to the identity of many women. Hair loss can seriously affect self esteem and body image. There is an important link between hair and identity, especially for women. These women not only have to deal with their own personal response to hair loss, but they have to deal with the stigma responses of others. Hair loss robs them of their privacy about their illness, since the sickness of the patient suddenly becomes obvious to others. Family and social support is crucial for women in this vulnerable position.
Let us support these breast cancer patients, already overburdened with treatment pain and cost, regain their self-esteem. Let us care, share, understand, encourage and help reduce their pain, agony and anguish of losing their long-associated identity by supporting her for a WIG.
Every year October is observed as breast cancer awareness month. Please join and support this movement to help breast cancer patients and create awareness for the disease.
Reference: Article from India today, published in November 2016, written by renowned oncologists.
Donating your hair to 'Grow&Give;' initiative for WIG creation is one of the most powerful gestures of support for those undergoing breast cancer treatment. Read on to find out what to do before you go for the big chop:
Hair must be at least 8 inches in length when pulled back in a ponytail and measured from the bottom of the rubber band to the tips of your hair.
Your hair may be dyed with certain dyes, but must not be bleached, chemically treated or permanently dyed. Hair must also not be more than 5 percent grey.
Wash and dry your hair completely and gather your hair into a low ponytail at the nape of your neck.
Cut your hair at home or at your favorite salon.
Using sharp scissors cut your hair just above the elastic hair band. Make sure the elastic hair band is tight and new (Once it's been cut, if your hair comes loose from the elastic band used to pull your hair back, it cannot be used as a donation).
Place your hair in an airtight plastic bag with a zip-lock.
Mail your hair donation to ' Mickey Amogh Foundation, Office No. 2034, Ground Floor, Rustomjee Eaze Zone, Goregaon Mulund Link Road Malad (W), Mumbai 400064 - Phone: 022 49621767 ' by placing the bag containing your hair in a padded envelope.
WOW! Get prepared for your new look.
It might sound silly, but going from a long ponytail to a chin-length bob is a big shift. Be sure to give yourself time to mentally prepare for your new look and to invest in a new style routine. It will take some time getting used to, but be open to the change and remember it's for a good cause!
Spread awareness
World Health Organization states that AWARENESS is the first step in battle against breast cancer. It helps reduce the stigma of breast cancer through education on symptoms and treatment. We hope that greater knowledge will lead to earlier detection of breast cancer, which is associated with higher long-term survival rates.
You can help spread awareness by getting associated with 'Grow&Give;' social media platforms. During this campaign period, we will keep posting feeds related to breast cancer, its detection, its treatment, and the need for a reliable, permanent cure. Your simple but very valuable likes and shares will help in reaching out to the nooks and corners of the country.
FREQUENTLY ASKED QUESTIONS

Q. How long does it take for your hair to grow in a month?
A. Normal hair grows anywhere from 1⁄2 inch (1.3 cm) - 5⁄8 inch (1.6 cm) per month.

Q. How many ponytails does it take to make one hairpiece?
A. Minimum 8 to 10 donated ponytails go into one hairpiece.

Q. How much does it cost to make a wig?
A. A wig made of real hair could cost between INR 8,000 and 15,000, or more.

Q. Can I donate colored hair?
A. Yes, we can accept donations of colored hair.

Q. Can I donate permed hair?
A. Yes, we can accept donations of permed hair. Wavy or curly hair may be straightened before measuring.

Q. Can I donate bleached hair?
A. No, we cannot use bleached hair. The bleach causes the hair to dissolve as it goes through the manufacturing process. Note: Many times highlights are done with bleach.

Q. Can I donate my hair if it is layered?
A. All donated hair must be at least 8 inches long. If the shorter layers are less than 8 inches, then the shorter layers should be fastened up and cut to donate your longest layers only.

Q. Can I donate my hair if it is cut long ago?
A. Hair cut years ago is usable if it has been stored in a ponytail or braid.

Q. Do you have an authorized/approved list of salons for hair donation?
A. No, we don't currently have a list of salons. We suggest you go to your regular salon with our hair donation list of instructions for making the cut.

Q. Where should I send the hair donation?
A. Please send the hair donation to the below address:
MICKEY – AMOGH FOUNDATION,
Level 17, DLH Park,
S.V. Road, Goregaon (W)
Mumbai – 400064

Q. Can I include pictures with my hair donation?
A. Yes, if you choose to send pictures (before and after hair-cut) please e-mail them to support@mickey-amoghfoundation.com. All photos must be submitted electronically in order for use on our website.

Q. Will there be an acknowledgement after you receive my hair donation?
A. Yes, once hair is received and processed, you will be intimated through a thank-you letter. Because we rely on volunteers to help with this comprehensive process, it may take up to 60 days to receive your acknowledgement.

Q. Can I meet the woman who receives my hair?
A. NO. We cannot link donors with recipients. We must protect their privacy.

Q. Do you only support breast cancer?
A. Grow&Give; believes in supporting all types of cancer. Any woman who has lost her hair because of cancer treatments is eligible to receive a wig.

Q. Why is the Grow&Give; program accepting monetary donations too?
A. Many a times, we have received requests from people who would like to support the cause through monetary donations in place of a hair donation. Because of that, Grow&Give; has arranged for monetary donation, allowing everyone who wants to support to join this initiative. It will help in generating fund for creating more wigs for women undergoing cancer treatments.

Q. When I donate money to the Grow&Give; program, how is that money being used?
A. All the money donated to Grow&Give; program is going to be used in creating wigs for women undergoing cancer treatments.

Q. Why does the donation link take me to Mickey-Amogh Foundation?
A. Grow and give program is an initiative of Mickey-Amogh Foundation, a non-profit, non-government organization, which works consistently for healthcare awareness, healthcare access, women empowerment and child education. Please visit the website for more information: www.mickey-amoghfoundation.com

Q. Is my monetary donation tax deductible?
A. Monetary donations to Mickey-Amogh Foundation are exempt from tax under section 80G of the Income Tax Act. Tax exemption is valid only in India.

Q. Is my hair donation tax-deductible?
A. Please check with your tax consultant. We cannot place a monetary value on a ponytail.